| | |
| --- | --- |
| | Last updated on 10 June, 2009 |
Journey through enemy territory

Bert Pond's own account of his evasion
Photo courtesy of Fred Gardiner

This story originally appeared in the MATAMATA CHRONICLE, Monday 24 April 1995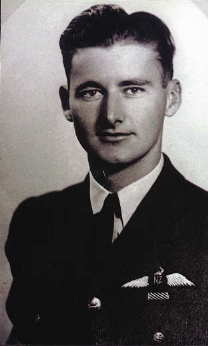 Entering the RNZAF in November 1941 at age of 19 I spent six weeks ground training at Levin and then about the same learning to fly Tiger Moths for about 80 hours at New Plymouth.
This was followed by four months twin engine training in Canada, then operational training, and converting on to Lancaster bombers May 1943.
Now trained with crew we were posted to 467 Squadron for bombing operations. It was summer and most of our trips were to the Ruhr for five or six hours of action - hot but short, with losses of 50 to 60 planes per night out of 600 to 1000 bombers.
Things we all remember about that time were: the sound of those planes climbing to height for about an hour; a constant roar over the centre of the UK till the whole force left heading to Europe, the searchlight belt of around 30 miles in depth along Europe's coast, the catching of a plane at 15 to 20,000 foot and all lights converging to hold it like a moth, the anti-aircraft guns firing up into the cone and the other bombers slipping through while the searchlights were otherwise engaged.
The appalling huge bonfire of a city on fire and the constant flashing of the anti-aircrat fire above it, the realisation that we now had to fly through it and bomb on a marking flare of green or red which were constantly dropping from our Pathfinding aircraft.
By August our trips were getting longer but just as hectic. On August 27 we were shot down by a JU88 night fighter on the way home, crashing on the border of Luxemburg and Belgium.
After the crash we split up and got out of the crash site quickly, as a cordon was thrown around the area. It was essential to make as much distance as possible into the first four or five hours.
I went to ground at daylight and remained hidden in a potato field until disturbed by a farmer, and his horses who nearly ran over me. We both thought the other to be German; I was overjoyed to discover he was Belgian and he to find I was RAF.
He advised me where the enemy was and which direction to take and so I moved quickly to the forest and in the direction of France, with the ultimate aim Spain.
The peasants working in the fields were wonderful in giving me directions and within a couple of days I had covered 30 or 40 miles and had swapped RAF uniform for an old blue suit and beret and flying boots for working boots. I got pretty good at wishing bon jour to all I met!
I continued on west till on the fourth day I arrived at the village of Suxy very tired and chanced my luck and tried a house one mile out of the village.
Four children greeted me and called their mother, Madame Poreye, whom I was delighted to find spoke English and was willing to offer shelter and food. I requested her to contact the village priest as they usually were with the underground Resistance Forces.
They came and told me to hold on where I was for three days and then the next day we started to move west - first by bicycle, then switched to local taxi, the driver of which insisted on behaving as always which meant he stopped at every tavern and we went in and had a brandy!
I had been joined now by an English RAF member Fred Gardiner, who didn't drink. However, he learned new tricks.
We were dropped at woods on the Belgian, France border and met by a local girl who guided us round the border post and were picked up again now in France. Spent the night at a safe house and led on to a train for Reims by another girl the next day.
I now had papers saying I was a plasterer by trade and, surrounded by German soldiers, pretended to sleep my way to Reims. Met by a French Canadian and sent on, the next day shepherded again by a local girl who signalled when to get off, with instructions to walk along the tracks till arriving at a garage.
This was it - the headquarters for our return to the UK. We were checked in and the boss underground man sent a signal to
RAF for the names of all the crews shot down on the nights of our crashes.
To my horror the names came back all correct, except mine was not included. He immediately thought I was a German "plant" as this was sometimes done to expose the resistance movement.
Luckily Fred and I had discussed and laughed over events at RAF Cottesmore where we had both done our Operational Training at the same time.
A group of Aussies had been going through then too and often at night they would take the hens from the henhouse and release them from the third floor and bet on which ones would reach the ground first.
If I'd been a German I would not have known this event, so Fred vouched for my authenticity and our underground boss put away his revolver, which he had produced to solve the problem, and we moved on with our plans to fly out the following night.
We duly set out at dark to walk the four miles to the field but Murphy's law took over and due to a misunderstanding about GMT summer time and French time the plane arrived one whole hour ahead of time.
However, the pilot, Squadron Leader Verity, patient and brave, flew around occupied France for the whole time it took us to walk out.
On arrival we marked the runway with three torches and our pilot came in turning on his lights as he descended, landed, taxied back and we piled on board and soon were heading for Tangmere on the south coast of England.
Two and a half hours later we were most gratified to land in England and shortly transferred to London to be debriefed. On leave in London I met Harvey Sweetman and Gerry Dawson of Matamata in our NZ Club. I said "Look, I'm back!." They said "Yes, where have you been?" (14 days).
Posted now to Trans Alantic Ferry Command based in Montreal, Canada, I started work ferrying Lancasters, Liberators and Mosquitos to England, Africa or India where they were held to be distributed to RAF squadrons as required.
I did this for the next two years flying the Atlantic via New Foundland, Greenland, Iceland, to England and the Azores, French Morroco, Cairo and finishing in Allahabad in India.
In September 1945 the war finished, my services finished and I headed home.
---
Fifty years after being shot down I met my radio operator who had come to New Zealand on a trip and in the same year spent four days with the Poreye brothers and sister in Brussels and in Suxy at their country house where the family had sheltered me.

---