| | |
| --- | --- |
| | Last updated on 10 June, 2009 |
[Note: the text of this story was OCRed from the original and then edited]
[Text and photographs courtesy of Alison Collins]
Ian Robb's Own Story
OPHOVEN and MAESYCK

I was Navigator of a Stirling aircraft HA-T, BK 650, of 218 (Gold Coast) Squadron, 3 Group, Bomber Command, based on Downham Market, Norfolk, which on the night of Aug.30th./31st 1943 was detailed to attack München-Gladbach, Rhineland. We were attacked by two German night-fighters shortly after leaving the target and the aircraft was soon well alight. F/Sgt Clague, captain of the aircraft, gave the order to bale out and at 0245 hrs. on the morning of the 31st August I landed near the Belgian-Dutch frontier.
I was not sure of my exact position as the wind at 15,000ft. was approx. 90 m.p.h., and I could have landed in Belgium, Holland, or Germany. The terrain where I landed was rather like a common, with gorse, bracken and low bushes and shrubs.
Having released my harness I was concealing my parachute in a thick bush when I heard voices and the sound of men approaching along a worn pathway. Thinking they were Germans who had seen me coming down and were searching for me, I remained hidden in the bush. When, however, the men came into view I saw that they were two rather scruffy-looking types carrying well-laden sacks, and as there was a strict curfew in force in the occupied areas at that time it was obvious that these characters, out in the early hours were up to no good. These then appeared to be the ideal contacts to tackle for assistance and I decided to take a chance and stepped out of the bush in front of them. Hoping that I was in Belgium I first spoke in French indicating my uniform but they replied in a language which I could not understand but which I immediately took to be Dutch, believing I had landed in Holland. To convince them of my authenticity I showed them my parachute hidden in the bush.
After rapid consultation between them they led me through a hedge and behind a haystack where, by conversing sufficiently in German, I discovered that they were Flemish, and that we were in Belgium with the Dutch frontier some 300 yards to the East; and that they were in fact engaged in smuggling scarce commodities across the border into Holland.
It was apparent from their manner that there was a certain doubt and hesitation as to what should be done and I decided to try and persuade them to assist me by handing over some money from my escape kit. This appeared to clinch the matter and one chap took off his jacket and I put it on over my battle dress; then we set off walking in Indian file with me in the middle.
After about half an hour we arrived near a farm house and one of my companions disappeared, shortly to return with two bicycles, disturbing a dog in the process, and with me on the cross-bar of one cycle we continued along very rough paths and lanes.
At 04:45 we arrived in the small town of Ophoven, and greatly surprised the wife of one of my helpers by walking in the kitchen door. When, however, she realized who I was, she gave me a very warm welcome and set another place for breakfast. After breakfast I was taken up to a bedroom where I soon sank into a deep sleep from which I awoke some hours later to find I was surrounded by what appeared to be the whole family.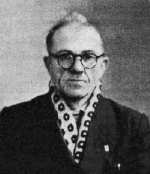 At 1800 hrs a small, sharp eyed man of about 50, whose name I subsequently learned was Jean Hilven of Dorgstraat 18, Ophoven, called and, speaking in French, told me he was a gendarme and proceeded to interrogate me. I eventually satisfied him that I was a genuine R.A.F. type and he left saying that he would return and collect me later. At 21:00 hrs Hilven returned, carrying a large folded sack under one arm, and told me he was taking me to a farm where I would be hidden for a few days until arrangements could be made to take me on further. We walked for about 1½ hrs and the purpose of the folded sack was soon apparent for upon the first sign of any person or vehicle approaching Hilven would jump down and quickly spread out the sack in order that we could lie flat without getting wet or muddy. This procedure we repeated several times. For part of our journey we were escorted by a uniformed Belgian gendarme and we passed through a farm-yard where my guides exchanged greetings with a German sentry invisible in the darkness.
After crossing one or two fields we were met at an obviously pre-arranged rendezvous by a young girl, Gertrud Hendrickse, and she quickly led us to an isolated farmhouse. Here I met the rest of the family, none of whom could speak French, and a young chap Albert Janssen who luckily spoke French. The kitchen of the farm-house opened straight into the cow shed, which was part of the building, and a snug hide out had been prepared for Janssen and myself. We came down for a stretch in the early morning and after dark, but otherwise stayed in the loft - our meals were brought up to us. I spent three days at the farm passing the time talking with Janssen who asked innumerable questions about England. He had spent two years in the Belgian army, prior to their defeat, when he was conscripted for factory work by the Germans and sent to work in an aircraft factory in Bordeaux. Not finding this to his liking he left without giving notice and made his way to the farm where he had been for some months.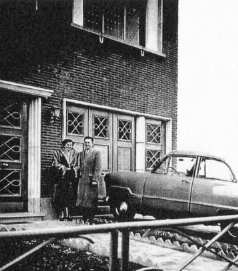 A fortnight after I had left the farm Janssen resolved to try and get to England as well. He decided to escape via Spain and succeeded in travelling via Liège, Namur, Mauberge, Paris and Toulouse and eventually arrived at the Pyrenees with a party of seven Frenchmen. Janssen was the only one who succeeded in crossing into Spain as their party was ambushed by a German patrol which promptly opened fire killing or wounding the remainder. Janssen escaped without injury and after spending five days in the mountains he eventually crossed into Spain, where he tried to contact the British consul in Barcelona. Unfortunately he was arrested by the Spaniards but was fortunate enough to be released after about a month - the Spanish authorities had a habit of detaining escapees for long periods in unpleasant conditions. After his liberation he succeeded in reaching Gibraltar and the authorities eventually put him on a boat for England. His troubles were not yet over, however, for when the boat arrived it was discovered that there were several German agents aboard and these were promptly arrested - including Janssen.
Despite his efforts to prove that he was a member of the Belgian Resistance who had aided British and American airmen, and regardless of the fact that he gave several names and particulars as evidence, he was classified as a 'dangerous alien' and spent eight months interned in a camp near Peel, Isle of Man.
After the war Janssen achieved his ambition of joining the R.A.F. and after completing a fitters course at the Belgian Training School, Snaithwell, Nr. Newmarket, he served with 6350 squadron at Fassberg, Germany.
I was told that I would leave the farm on Friday morning and Gertrude produced an old brown jacket, a pair of extremely thin grey trousers, and a pair of patched black shoes; and then set to and made me a shirt from a white silk blouse. The only item of R.A.F. uniform I was wearing was a pair of issue socks - I was not carrying my identity discs.
About 0900 hrs. on the morning of Friday 3rd September, Gertrude and I set off on bicycles and apart from some confusion when I tried to ride on the left-hand side of the road, and a momentary panic on my part when we passed an impressively dressed German in a black uniform with a red piping, peaked cap and gold cap badge, who it transpired was only a railway official, we reached the little town of Maeseyck.
After negotiating a confluence of some six roads without mishap we parked our cycles outside a café, and after waiting a minute or so we walked in and found sitting at a table Jean Hilven together with a shorter, balding man of about 50, both of them wearing miniature ribbons of Belgian colours in their lapels. The second man was Joseph Vandenbosch, and speaking in French, he told me he was to be my guide to Tongres and that we would travel by the street railway. After sharing a glass of beer and a chat with our companions we left and boarded the street railcar, which consisted of some 4 or 5 vehicles.
The car in which we found seats became very full and Vandenbosch passed me a copy of the local paper to read in order to avoid being drawn into conversation. Most of the passengers left us at a large factory and from then on the coach was only partly full. We crossed the Albert Canal and passed quite near the famous fortress of Eben Emael. At one stop we were warned by the conductor that the Germans were checking papers along the route so we passed through a couple of cars to the open observation platform at the rear where we were able to see along the entire train and could drop off quickly if we saw anything wrong. The rumoured check did not materialize and we arrived at Tongres without incident.
TONGRES
Tongres appeared to be well-filled with German staff cars and transports, and there were many troops in the streets. Vandenbosch took me to his café, and we entered by the kitchen door and I was introduced to his wife and daughter. After lunch he took me to a large room over the café where he showed me several of his paintings. and we spent the afternoon talking. Vandenbosch told me that he had acted as a British agent in the 1914-18 war.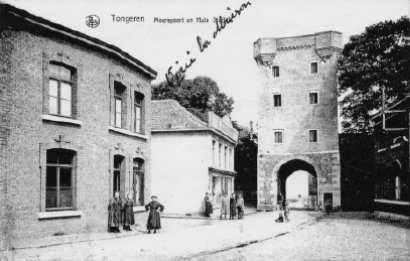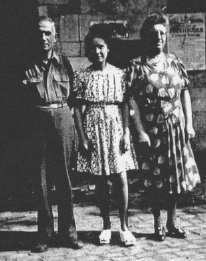 After dark Vandenbosch told me that we were going to another house where I would stay for about three or four days and about 21:00 hrs we walked to 18 Rue St. Ursule where I was handed into the care of Mme. Franssen and her two daughters Marie Jose and Antoinette.
The Gestapo later got onto the trail of Vandenbosch and he was forced to move to Liège and later to a resistance group in the country where he succeeded in avoiding capture for the remainder of the war. He now lives at 104, Kielenstraat, Tongres.
I soon learned that the Franssen family had sheltered airmen and escapees before, and that my billet was to be in the attic where everything was well organized. Shortly after my arrival a young member of the Resistance, a cousin of the family, arrived and put me through a further interrogation. Having convinced him that I was the genuine article he then asked me to write two messages, one to the Air Ministry and one to home, and he assured me that these would be delivered.
Although these messages were written without much hope I was to see both of them again in November 1945 when they were returned by the Air Ministry who had received them within a month but decided not to release them.
The following day the girls insisted that I should have my picture taken with them, despite my protests that this would be dangerous from their point of view.
On the third morning a young man who was to act as my guide, called and told me he was to escort me to Liège and after Mme. Franssen had packed me some food we left to walk to the tram. After a short walk we boarded the street train for Liège and arrived without incident.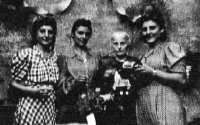 Mme. Franssen, Marie Jose and Antoinette were arrested by the Gestapo on the 7th January 1944, sent to gaol in Essen, where they survived several very heavy air raids, then transferred to Kreuzberg (Czechoslovakia) where they remained for seven months. From here they endured a journey of 3 days and nights, without food or water, to the women's concentration camp at Ravensbrück (where Odette Sanson G.C. and many other British agents were held) - they all survived and returned home on 30th June 1945.
LIÈGE
After leaving the train we walked for a considerable distance until we eventually arrived at the house of a R.C. priest. Apparently the original intention was that I should remain here but the priest had been compelled to harbour a young woman with two children whose husband was being sought by the Gestapo.
After some discussion with my guide he gave us the address of his brother, an architect, and said he felt sure that he would agree to hide me. Before we left the priest suggested that perhaps we might like to have a took around an exhibition of the work of Belgian P.O.W.'s in Germany, and he personally conducted us on a tour.
After my guide had several times enquired the way we eventually found M. Hacken's home at 37 rue de l'Enseignement, and he received us in his office in the front of the house. When my companion had explained our business he readily agreed to take me.
M. Hacken had an apparently prosperous business as an architect and the family, a son and two daughters, lived quite comfortably. I spent about 10 days with the Hackens, during which time a R.C. priest was a frequent visitor - in Belgium the R.C. clergy were apparently 100% members of, or at least sympathetic to, the Resistance movement. Various Resistance representatives called to see me during my stay here and I was told that I was now in the hands of the "Comet" Line and that the next stage would be Brussels. M. Hacken eventually received instructions that I was to leave and he accompanied me across Liège to his brother's house. Before we left, the youngest daughter gave me a good luck charm, a religious medallion of the Basilica of the Sacré Coeur in Paris - and this although none of us knew it was to be a curious omen.
On our arrival at the Hacken's I met a Sgt. Waist-Gunner from a Fortress crew who was now being hidden there, and we were soon joined by another American Lt. Bill Turner, of Buffalo, who was to accompany me to Brussels. Some half-an-hour later our guide, a young woman of about 26, arrived and arrangements were made for Turner and I to follow her at a comfortable distance giving no indication that we were with her. Our rail tickets had already been purchased. and Turner and I were given ours. About 1700 hrs we walked to the station, M. Hacken accompanying us, and we found the train practically full - our guide managed to secure a seat for herself, and Turner and I stood in the corridor in such a position that we could keep an eye on her in case of emergency.
Apart from two minor incidents, once when a suspicious looking character stood between Turner and I in the corridor for about 15 minutes, and later when some half-drunken German troops walked into a separating door in the corridor nearby, we reached Brussels without mishap.
The Hackens were eventually arrested by the Gestapo on 2nd March 1944 for their Resistance activities, All except M. Hacken were released after 4 days; he was held in gaol in Liège and condemned to death on 21st April 1944. Inexplicably he remained at Liège until 25th August when he was deported to Germany. In Germany he was imprisoned in 14 different gaols, being moved all over the country as both fronts advanced, until he was liberated by the Russians at Brandenburg on 27th April 1945.
BRUSSELS
The Gare du Nord was crowded, but Turner and I followed our guide out into the square in front where she stopped to talk to a girl, who appeared to be about 14, this was Lily Dumont alias "Michou", who was actually 25 but she had bobbed her hair and dressed as a school girl to evade the Gestapo who had already arrested her parents and were on the lookout for her.
After we had waited for some time "Michou" said it was obvious that our contact was not coming and we should have to make other arrangements. We boarded a tram and rode for some time towards the poorer end of the town. After alighting we walked a short way through a side street until we came to a tall old house. When we entered we found an elderly lady and two young men sitting at a large table. I greeted then in French but as soon as the youths replied. I knew that they were Americans - they were in fact survivors of the Schweinfurt raid.
Turner and I were found makeshift beds on the floor, and on the following evening two photographers arrived, complete with flood-light equipment, and we were photographed for false identity cards, The morning after, "Michou" took Turner and I to a pre-arranged rendezvous where we again met one of the photographers from the previous evening - a mild, quiet-spoken bespectacled, middle-aged man, M. Milwa, and we were handed into his charge.
Lily Dumont left her home for the last time on 7th January 1944, and after travelling via the "Comet" route, crossed into Spain on the 28th February. She returned to restart the line and discovered that the organization was betrayed by Jean Masson. She went to Fresnes Prison and calling from outside to "Martine" one of the Line in prison there. As a direct result "Michou" was able to warn the other members and the organization in the South of France was saved.
"Michou" crossed the Pyrenees twice later and on the third occasion she was transported to England where she promptly volunteered. for duty as a parachutist, but the authorities refused to accept her. On her arrival in England "Michou" contacted Gerry Lorne, B.A. of our crew, who like myself known had known her in Brussels.
'Michou' is now married and is Mme. Pierre Ugeux, 21, rue Papenkasteel, Uccle, Brussels.
The "Comet" escape route was founded by Lily Dumont's sister, Andrée Dumont alias "Nadine", aged 19, with M. Paul de Jongh and his daughter Mademoiselle Andrée de Jongh.. alias "Dedee". Upon "Dedee's" arrest "Michou" succeeded her.
The "Comet" escape line was responsible for saving some 800 men of the Allies, but of the hundreds of helpers who had been imprisoned, 23 were shot and 133 subsequently perished of starvation and brutality.
Awards Bureaux were set up in Brussels and Paris and the British authorities alone distributed eight thousand letters of thanks on parchment to the people of Belgium and France. Numerous O.B.E's, M.B.E.'s, B.E.M's and Kings Medals were given to those had sheltered and fed escapees. 'Dedee's' mother and her elder sister Suzanne were arrested and her father died in imprisonment in Germany. Lily and Andrée Dumont and Andrée de Jongh were each awarded the George Medal for their activities.
The story of the "Comet" line has been told in "Little Cyclone" by Airey Neave. "Comete: Ligne d'évasion" by Suzanne de Jongh, and "Rendez-vous 127" by Denis Hornsey.
M. Milwa led Turner and myself on quite a long walk through the streets until we arrived at a café. We were the only three customers present and after the proprietress had served us a glass of beer we learned that this was to be Turner's new billet and that he was apparently being handed over to quite a different organization.
Milwa and I continued to the Rue du Val d'Or, to the first-floor flat of M. Maca, his son Henri and daughter Maria. A Canadian Halifax rear-gunner Arthur Johnson was already in hiding here but he was due to leave the following morning. We were joined for the evening by an American Fortress pilot from Texas who was being harboured by a police inspector and his wife, living in the house next door.
F/Sgt Johnson was given a message to be relayed over the radio when he arrived in England and he was told that the normal routine was to leave Brussels in the morning, travel by train to Blandin on the French border, cross by foot, thence by bus into Lille and train to Paris. After, a night in Paris be would travel by train to Bordeaux, spend another night there then carry on South and across to Spain on the third night. It was anticipated that he should arrive back in England within 5-7 days - but Johnson's code message was not received during the fortnight that I remained with Maca.
M. Maca did not visit the flat very often - perhaps twice a week - and subsequently he did not know that in addition to hiding Allied Airmen, of which he was fully aware, Henri and Maria were active members of a most successful espionage system. Henri used to collect the information from his various contacts in the country on Mondays, and this would then be sifted and re-typed on flimsies by Maria and the Police Inspector's wife and on Thursdays Henri would take the completed manuscripts to the Gare du Nord - wrapped in an openly displayed copy of "Signal", a German Propaganda magazine published throughout Europe and he would then hand them over to another agent whose task was to take them to a pre-arranged rendezvous to be picked up by Lysander.
Among the information collected while I was here was a plan of the defences of Antwerp, and a 37 page list of all German occupied buildings in Brussels together with details of the purposes for which they were used. This list was removed from a German office by one of the Belgian cleaning staff, copied by Maria and her colleague working throughout the night, and returned next morning before office hours. Another regular item of information dispatched was a list of military rail traffic, special troop and ammunition trains, with details of times and loads.
I was given clothes more suitable to my town surroundings and wore a green tweed plus-four suit, with yellow pullover and socks. and excellent quality brown shoes.
M. Milwa arrived after a day or two with my forged identity card on which I was described as an Engineer - apparently one of the few occupations in which young men were likely to be allowed to stay at their employment rather than be conscripted and transported to Germany.
Having received my papers I was allowed to go out and about, and twice visited the cinema with Henri and Maria. At weekends we would make up a small party with the Police Inspector, his wife and the Fortress Pilot, and take trips to the outskirts of Brussels.
One day Henri Maca came home with an idea for us to fly back to England one of the latest types of Junkers 288. The Fortress skipper was to act as pilot, myself as navigator and another American waist-gunner, who had just arrived at Maca's would be gunner. Henri said that he would obtain a photograph of the cockpit layout and whatever other information about performance that was available. Apparently there were some of these aircraft on a nearby airfield but this was too well guarded for us. Henri however knew of a less well protected airfield in the country which he was confident could be held temporarily with the assistance of the "Armée Blanche" Belgian armed resistance - and we agreed if some warning could be given to London of our intentions, we stood a reasonable chance of pulling it off.
Before however Henri could get the scheme organized he received his call-up papers for forced labour in Germany and he decided to leave at once for a resistance group in the Ardennes which was so well organized and armed for operations in thickly-wooded country that the Germans in the area were reluctant to attack them.
M. Milwa called on several occasions whilst I was here, once to give me information to report to M.I. on my anticipated return to England, about a suspected traitress Annie de Lisle. We arranged two messages to be broadcast from London. One if I confirmed that she was in fact working for us and another if she was unknown to our organization. Before I left however, definite information was received that Mme de Lisle was in fact working for the Gestapo, and Milwa broke into the house and killed her, and managed to rescue six Allied airmen being held there.
We were also warned about a certain Captain Brown, purporting to be a Canadian, who it was known was also working for the Germans. He was easily recognizable by the fact that the little finger of his right hand was missing and should we ever come in contact with him we were told to get away from him at once.
The two Americans left shortly after this and a third American, another waist-gunner, arrived at the police inspectors, before I was finally advised by Milwa that it was my turn to leave the next day. The police inspector filed the A.M. mark and the number off my Navigation watch which I still carried.
The following morning we made an early start at 6.30 am. and Maria Maca accompanied me on the train to a spot where we met Milwa and the three of us then boarded another tram to the Gare du Nord where we again met "Michou". "Michou" was accompanied by a youth of about 20 who was introduced as the guide and an American Fortress Navigator, Lt. Carlyle Darling of Niagara Falls, who was to be my companion for the next two months. We were told that we were following the normal procedure of the "Comet" route of taking the train to Blandin, and that if we were questioned we were to say that we were going to stay in the town.
BRUSSELS - BLANDIN
The train, which was protected by a flak-wagon with four cannon at the rear, was almost full but Lt Darling and I found seats by a door which we soon discovered was locked and this resulted in a series of comments from those who tried it. Apart from a minor panic when we stopped at the very place where Darling was shot down about four weeks previously, and found the platform full of Feldgendarmerie troops in full kit who appeared to be searching the train but were in fact, I gathered from the conversation around us, escorting political prisoners, we made the journey to Blandin without incident.
Arriving at Blandin we followed our guide across the lines and turned left out of the station into a quiet road. We walked for about 20 minutes during which time I was able to have my first talk with Lt. Darling and I discovered that he was from the same Fortress crew as the waist-gunner I had left in Brussels.
We had by now left Blandin behind and were in quite open country and soon we turned into an isolated house prominently marked with a large Red Cross. Here a snack awaited us and we met the new guide who was to take us on to Paris, he had come already equipped with our new identity cards, and I learned that my new profession was to be that of a teacher.
Whilst we were talking a large individual in uniform came through the curtains that shut off the room from the large hall, but it was only the frontier guard who had come to say that all was clear to cross the frontier.
Our new guide was a young man, short, dark and full of energy and he led us off at a fast pace across numerous fields, obscure footpaths, and through several farm-yards until we arrived at a farm where lunch was awaiting us. We greeted the farmer and then entered a small room where we three had our meal on our own. On our guides advice we ate quickly and immediately set out to walk about a further half-an-hour into the next village. Here we found a small, and rather dilapidated bus waiting - already partly loaded with passengers and we boarded this and managed to find seats at the back. My first indication that we had actually crossed the frontier was when the passengers produced French money for their fares.
Our guide purchased 3 tickets for Lille and we rode into the town without incident - except that when we were alighting the conductor gave us a solemn wink, he had evidently seen travellers on the "Comet" route before!
We followed our guide through the town to the main station, which was crowded with Hitler Jugend in khaki shirts and shorts complete with large swastika armbands, and he purchased some newspapers and magazines. We got into a comfortable compartment and Darling and I sat on one side against the window and our guide sat opposite.
Our journey to Paris was uneventful, apart from one incident when the compartment door was opened by two uniformed officials who appeared to be gendarmes but were apparently customs officials as they asked to see what we had in our parcels. I replied that mine contained food and clothing and after a cursory glance they turned to Darling and asked if he had any tobacco. Despite the fact that one pocket of his jacket bulged with a large packet containing about ½1b. of Belgian tobacco Darling replied "non" in what appeared to me to be an obvious American accent - however the customs men conducted their examination of the compartment without further questions.
PARIS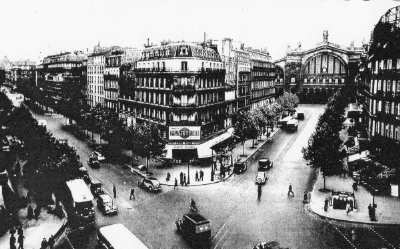 On our arrival at the Gare du Nord we reverted to the now familiar practice of following our guide at a respectable distance and he led us through a maze of small back streets until we came to a small church at the top of a few stone steps. Here we waited fora few minutes until a well dressed man of about 35, fair, well built, with a smart military-style moustache sidled up to us and taking Darling as an American asked him quietly in English what was a B17, and then produced a knife which Darling identified as being part of G.I. jungle-kit. Turning to me the newcomer asked me if I was English and then asked me what P.T. and V.D. stood for. Our replies were apparently satisfactory and our guide from Blandin left us.
We waited for some time for another contact to appear but eventually our new guide decided we were too conspicuous standing in a group without carrying on a conversation and that we could not afford to wait any longer but would have to spend the night with him.
We followed our new guide for quite a way apparently in the direction of Montmartre. I remember passing the Metro where it ran overhead, until we turned down a side street with fruit-stalls along each kerb, and through a wide entrance under a large block of quite modern flats. We walked up to the fourth floor and along the corridor to the end flat. The flat was tiny, about 15ft, square and it consisted of one room with a large divan and a pantry with a miniature wash-basin.
Darling and I relaxed on the divan, having been warned to be especially quiet as it was apparently very easy to hear from one flat to the next, whilst our companion busied himself working at a small table. From the minute cupboard he produced a suitcase stuffed full of notes, ration cards and blank identity cards. To the latter he proceeded to add photographs, stamping them with the official stamp of various 'departments' and completing the particulars including fingerprints several of which we supplied with pleasure. Our agent was particularly careful to eat all the paper he had finished with, nothing was burnt and nothing torn up and thrown away. Later our host explained that he had an appointment to keep and would leave us for several hours and whilst he was gone Darling and I discussed how we could explain away a room full of money, forged permits and identity cards some of which bore our fingerprints. Fortunately our guide had taken his revolver with him so we were relieved of one embarrassment.
Next morning we followed our host to a nearby Metro station where he bought tickets and we followed him onto the train, where Darling and I were regarded very suspiciously by an Africa Corps corporal, and on arrival at our destination we walked a short distance to a church which we entered. After about 20 minutes a young man, aged about 27 or 28 years smartly dressed in a grey suit, and carrying kid gloves, came in and sat next to our guide. After a whispered conversation between them our guide came over and told us that when we left we were to follow our new helper, this we did and he led the way back to the Metro. After one change and a journey of about 20 minutes we emerged in a less prosperous neighbourhood. and our guide led the way through a maze of side streets until he turned into a large house, one of a terrace of five or six fronted by some lawn and shrubbery, and Darling and I followed in.
Once inside our guide greeted us in English and explained that we were to stay at another friend's house for some four or five days and we would continue on to Bordeaux and Spain. This hardly agreed with the usual procedure as detailed to us in Brussels. We continued talking until our next escort arrived - a middle-aged, well dressed man of medium height, lean angular features, rather rounded shoulders, horn-rimmed glasses, and carrying a brief case - his French I found quite unintelligible. Once more we followed our new acquaintance through a maze of streets until we came upon a Metro station which I was able to see was Marie d'Issy - which conveyed that we were in the Billancourt district - passing the station we continued up the hill, turned right and some two hundred yards along the right hand side we came to an iron grille gate which it was not possible to open from the outside. Our guide pressed the electric bell and an elderly lady came out to the grille and admitted us. The house belonged to a doctor, aged about 45, dark-haired, swarthy complexion, neat and dapper. who lived there with his aunt. We did not learn the doctor's name, a precaution which many others might well have adopted, but he told us that he had previously hidden Allied airmen and resistance members. Darling and I stayed here some four or five days during which I was treated by the doctor for an attack of influenza, and we were twice visited by resistance representatives to whom we had to repeat particulars of our identity.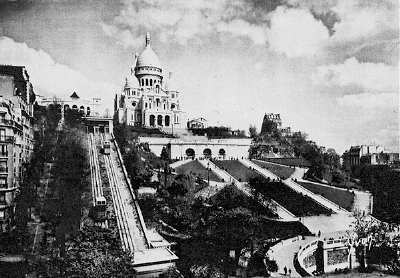 Eventually the guide who had escorted us to the house called to collect us and we took the Metro from Marie D'issy to Lamarck-Coulaincourt and after a short walk arrived in front of the Basilica of Sacré Coeur. A young woman was waiting for us, and after she had held an earnest discussion with our companion they both came over and our guide informed us that it was no longer possible to use the "Comet" route to Spain but that arrangements had been made for us to be passed over to a different organization who, it was hoped, could arrange for us to be returned by air. Our guide left and we followed the young woman, Suzanne Bastin, to a flat quite near the Sacré Coeur, in a steep sloping street directly opposite a hotel occupied by the Gestapo. Although not a large flat it was full of airmen - British, Dominion and American - who were constantly coming and going until at one period there were no fewer than 21. We were visited several times by the "Chef" a Belgian, Commandant Nollet (although I discovered later that this was merely one of several aliases) who told us we would be joining two Resistance groups in the Rheims area, "Hector" and "Possum" from where it was hoped that we would be flown back.
After two or three days in the flat there were six airmen left and accompanied by Commandant Nollet and Suzanne Bastin we made our way, in what appeared to me to be a most suspicious group, to the Gare de l'Est.
Nollet bought tickets for Fismes and we boarded a packed train, there were no seats so we stood in a group at one end of the corridor, and were interested to see a train-load of Kriegsmarine personnel arrive on the opposite platform. Apart from an air-raid warning, just before we left, the journey was uneventful - and the latter half was made in blackout.
FISMES and RHEIMS
On our arrival at Fismes, Nollet told us to follow a chap in painter's overalls, who we would find waiting outside the station, this was Camille Rigaux. We saw him immediately and four of us followed him, the remaining two going with Nollet. Rigaux led us to a stable where we were greeted by Raymond Gallet, and we then climbed into the back of a covered cart. Gallet drove and we appeared to cover a considerable distance until we stopped on a deserted road and were greeted by the curé of the nearby village - Savigny-sur-Ardre, - the abbé Fontaine.
The curé conducted us to a large farm where we enjoyed a huge meal with a very numerous family and then spent the night in a hay loft. We had by now discovered that our new companions were both R.A.F. Sgts. Gillman and Joe Shaw. The following evening there was a sudden alarm that the Gestapo were looking for us, and under the direction of the curé we were equipped with wine, food, blankets and each given a weapon - rifle, revolver or sten gun. The abbé then led us in Indian file for a very long uphill trek - about 2 hours, until we arrived at a huge underground cave high up in the hills. The entrance to the cave was practically invisible and to enter, it was necessary to move a large boulder and then it was just possible for one person, lying flat, to crawl through one at a time. Once inside however, the cavern was enormous and it was in fact used by the groups to test arms dropped in their parachute operations.
There was an ample supply of straw and this together with the blankets kept us reasonably warm; the curé and various helpers brought us food two or three times a day, but the entrance was apparently visible from the main road and it was considered unwise for us to go out during the daylight. As our candles were very precious it was possible only to light them at meal-times and we were forced to spend the remainder of the time in darkness, going out for a breath of fresh air after dark. We spent 5 days in the cave and by the fifth day we were rapidly losing faith in the arrangements - so much so that we discussed various ideas of branching out on our own - but the curé informed us just in time that we were to move again. Once more we were split and Lt.Darling and I were taken by the abbé to an old chateau near Savigny-sur-Ardre - the home of Comte Joseph de Bury. The chateau was in an advanced state of dilapidation and the Comte, who lived with only an elderly housekeeper as his staff, was not mentally fit. He did not know that his two sons, whom he thought had been deported to forced labour in Germany, had in fact been spirited away by the abbé Fontaine and were with a resistance group in the alpine region.
The Comte de Bury was subsequently arrested by the Gestapo and he died in a concentration camp in Germany.
Lt Darling and I spent about a fortnight in the chateau and we were then taken by the abbé Fontaine to his house where we spent the best part of a day waiting until we were picked up by a M. Paul Quenot, a huge bulk of a fellow, in his grey Citroen, and transported to the village of Damery.
At Damery we were hidden by a wealthy champagne merchant, M. Armand Graser, in a new house, not quite completed, which was being built for his son. We spent about another fortnight here, M. Graser bringing us food every day, before it was deemed advisable to move us once more. We were again transported by Paul Quenot and a companion to the village of Cuisles-par-Chatillon, to a small vineyard belonging to M. Eugene Louis Mousse. M. Mousse had three sons, the two eldest of whom were learning English, and the eldest Edmond was an active member of the local group.
Both M. Mousse and Edmond were subsequently arrested by the Gestapo, deported to Germany and neither returned. No details of their eventual fate were ever obtained.
After a further fortnight we again moved to the nearby village of Baslieux-sur-Chatillon, this time we made the journey on foot escorted by Edmond Mousse. We were taken to the house of M. Amedée Vizeneux, who lived with his son Eugene in not very prosperous surroundings. The housekeeping was carried on by Madeleine Remi, a young girl who came to see us practically every day and who kept us supplied with food. Whilst we were here I contracted influenza for the second time and was attended by Dr. Clement Marot from Châtillon-sur-Marne.
M. Vizeneux and Eugene were both arrested by the Gestapo, deported and neither returned. Madeleine Remi and Dr. Marot were also arrested and deported but both fortunately returned.
From Vizeneux's we were collected one morning by Paul Quenot this time in a greengrocers van, and we travelled into Rheims. Arriving at 21, Rue Marlot, a flat occupied by Mme. Renée Weigel. A frequent visitor was a friend of Mme. Weigel - a Mme. Lucienne Marmot, and during our stay of about a fortnight we made one or two excursions into the town after dark. In particular we visited on several occasions "La Coupole" café where we met quite openly local Resistance people despite the fact that the café was very popular with German troops.
Three other people were frequent visitors to the flat - Marcel Tavernier, a butcher, of 106 rue des Romans. who kept us supplied with black market meat and other rationed foods. Charles Nicolas alias "Lafleur", the French-Canadian radio operator of the group, and a young fair-haired girl, Raymonde Beuré - who was subsequently to betray the whole organization to the Gestapo.
Whilst I was here I was once again taken ill and was this time attended by a Dr. Bettinger.
Dr.Bettinger was subsequently arrested on the 9th June 1944 and for his help to the local Resistance he was deported to Dachau concentration camp where he died of typhus.
Mrs Weigel was also arrested, imprisoned in Rheims and Châlons-sur-Marne and eventually deported to Ravensbrück concentration camp for women from where she returned in very poor health and with a legacy of severe dog bites on her legs. Lucienne Marmot escaped arrest but Marcel Tavernier and his wife were both caught - Mme. Tavernier was deported to Ravensbrück with Mme. Weigel and I was to meet Marcel again in Buchenwald.
Towards the end of our stay with Mme. Weigel we were joined by another American. Lt Robert Chase U.S.A.A.F., and we remained here until December 7th or 8th.
Lt Darling and I were then taken to the station by Raymonde Beuré, and we joined Commandant Nollet and Nicholas who had two young chaps with them. We managed to get a compartment to ourselves and then discovered that the two strangers were both R.A.F. men Sgt. Robert Harper, and Sgt. Baker. Commander Nollet told us that we were returning to Fismes where we would stay until the 'air-lift' came off. This was anticipated in about a fortnights time me and would be indicated by a 'message personnel' - "Pierre est avare".
The "message personnel" system consisted of a series of cryptic and apparently meaningless messages broadcast by the B.B.C. European service to the occupied countries twice nightly at 7.30 p.m. and 9.15 p.m. after the news bulletins. Each message was an indication that some clandestine operation would take place that night. The actual messages were pre-arranged between the chiefs of the various groups and the Special Operations Executive in London.
When we arrived at Fismes we were again split and this was the last I saw of Lt.Darling, as I was detailed to go with Sgt. Harper and repeat the previous drill of following Camille Rigaux, again dressed in his painter's overalls. On this occasion we did not go to M. Gallet's stable but Camille led us to a house in the Rue de la Gare, quite near the main square of Fismes.
The front of the house was converted into a cobbler's shop and this was run by Camille's parents - M. and Mme. Rigaux. Harper and I were given a bedroom upstairs at the back of the house and we remained here during most of the day, coming down only for meals, but we joined the family after dark and listened regularly to the news bulletins.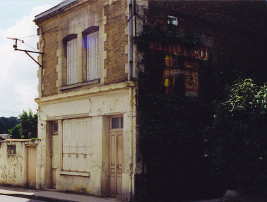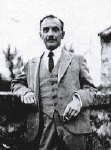 Camille Rigaux, Raymond Nollet, Raymond Gallet and other members of the group visited us daily and Nollet asked if we would help at a parachute drop. Although we realized that we were placing ourselves in an awkward position if we were caught Harper and I agreed that we could not very well refuse. The 'message personnel' for the operation was to be "Le soleil brille pour toute le monde" and a day or so later we heard the message in the evening. Quenot collected us and with Camille Rigaux took us by car almost to the site which was to the North-West of Fismes near Vauxere. The drop took place successfully and all canisters were collected and transported without incident.
Some days later we heard the 'message personnel' "Pierre est avare" which was to indicate the picking-up operation by Lysander to take us back. We said our farewells to M. and Mme. Rigaux and were once more conveyed in Quenot's car to the site where we were met by Nollet. After waiting for several hours it was evident that the expected aircraft was not coming and eventually about 04.00 hrs. Commandant Nollet gave the order to disperse and we returned to Rigaux's.
We continued our routine at Rigaux's until the morning of the 31st December when Harper and I were awakened by shouting and a general hullabaloo downstairs followed by the sound of heavy boots on the stairs. We were only half-dressed but in any event escape from the back bedroom was impossible as the only window opened on to a sheer drop into a high-walled courtyard with no exit. A Gestapo officer with a revolver burst into the room, followed by two Army privates of the Feldgendarmene with rifles. The room was ransacked by the officer while we were allowed to dress, and we were then taken downstairs to where M. Rigaux was being held. A short time after the Gestapo Officer in charge of the operation, Lieutenant Weissensee, conducted Harper and I to a staff car in the nearby square. There were several Army lorries and cars parked at various points round the square and as we were left without any immediate guards, we considered starting the car and making a bolt for it, but before we could sort out the dash-board and controls Lt. Weissensee returned. Before the convoy moved off we saw the Mayor of Fismes, Dr. Genillon being escorted to another car. Dr. Genillon died in Buchenwald three months later.
We made two more stops at villages outside Fismes but evidently the birds had flown, and we were driven straight to Rheims prison.
From information we subsequently gleaned from numerous contacts in the gaol that the Gestapo swoop was completely successful - 58 Resistance members were arrested, including Commandant Nollet, 24 alone from Fismes, and the organization at Rheims, Sillery and Fismes was completely wiped out. Fortunately Sgt.Harper and I were the only airmen to be arrested.
Since my return I have been in contact with Camille Rigaux and & have learned that the whole organization was betrayed to the Gestapo by Raymonde Beuré and her fiancée Raymond Jeunet. Nicolas, the group's radio-operator, was also involved as he fled with Raymonde Beuré some three hours before the Gestapo arrived. Just prior to the parachute operation at which Harper and I assisted, Commander Nollet and two others had returned from London with some 7 million francs in funds. They had left for Paris with about half and left the residue of some 4 million francs and Nicolas and Raymonde Beuré seized the opportunity to abscond with the money.
Of the Beuré family 6 were shot by the Resistance and Raymonde, when she was finally caught at the end of the war, received 15 years hard labour. In the Jeunet family eight were condemned to death but only three - Raymond, his brother and mother were executed, the remainder being reprieved. Nicolas was also reprieved in view of his previous work with the Resistance.
Camille Rigaux and his wife were both lucky enough to avoid capture. Camille on that morning had set out to find a safe billet for two American airmen and he turned the corner of his father-in-law's house just as the convoy of Gestapo cars pulled up outside the house. Realizing immediately that something was wrong he turned his motorbike in the middle of the German vehicles and set off to try and find Nollet, but unfortunately the Gestapo had already raided Nollet's H.Q. and arrested him. Rigaux then collected his wife and they both managed to escape and spent the next 8 months hiding in the forests to the South of Firmer, near Dravegny. The Gestapo left their daughter Michèle, aged three, with her grandmother as a bait to lure her parents back and they returned three or four times to try and discover Camille Rigaux's whereabouts.
The Rigaux family however lost M. Rigaux who died in Buchenwald. Camille's father-in-law, who was shot at Buchenwald, and his mother-in-law who died in Ravensbrück shortly before the Americans liberated the camp.
Commandant Nollet's real name was Edgar Potier, and he was a commandant in the Belgian Air Force in 1939. At the time of the German offensive in 1940 he attempted to escape to England with his aircraft, was shot down by A.A. fire when in sight of the English coast, but was rescued by an Air-Sea Rescue launch.
He was known in England by the name of Martin, and having proved his patriotism he was sent to unoccupied France to organise the repatriation of R.A.F. personal escaping via Spain.
After the complete German occupation of France he returned to England and was later ordered to return to create an organization for escapes by air in addition to the organisations for escape by sea and land already in existence. If possible the new organization was to operate in the area Laon-Soissons-Rheims. Fismes was almost the central point of this triangle.
Raymond Gallet, having already served with an Ardennes resistance group, of which his brother was the leader, was selected to make contact with Potier. The meeting was delayed some weeks because Potier sprained an ankle when landing by parachute in the Ardennes, but on 14th August 1943 a stranger called on M. Gallet saying he had a message from his brother and proving his identity by producing the other half of a 5 franc note which fitted exactly the half already held by Gallet.
The stranger gave his name as Jules Nollet, representative for a factory at Blagny à Carignan (Ardennes) but Gallet realized from his accent that he was in fact Belgian.
Nollet explained to Gallet the duties of the new groups. To create a centre for harbouring R.A.F. escapers, and discover suitable sites for parachute drops and for aircraft landings. At least a third person would be required as a minimum of three was required to operate lights for a landing operation, and Gallet chose an old comrade of the 1914-18 war - Camille Beuré, whose daughter Raymonde was subsequently to betray the group. Beuré was made responsible for maintenance and storage of the necessary landing lights and radio equipment and Gallet was to be responsible for hiding, feeding and transport of the escapers. Thus the groups "Hector" and "Possum" were founded.
In November 1943 Nollet received orders from London to return to England, and after the "message personnel" - "La pêche à la truite est difficule" he was picked up by Lysander near Chauny. North of Fismes. He was to return by aircraft in December (Harper and I were to be picked up by the same aircraft) but the weather was unfavourable and he parachuted north of Fismes on 19th December.
On the 29th December Nollet was arrested by the Gestapo in his room at the Hotel Jeanne d'Arc.
Prior to the betrayal of the group it had already been decided that after the January 1944 operations, the Fismes area would be evacuated and the group moved to Amiens.
After Nollet's suicide in Rheims prison on 8th January 1944 the German authorities informed the Belgian consul in Rheims that a Belgian beggar had committed suicide. The Consul made enquires and was able to discover the whereabouts of the grave and advise Potier's family at Florenville, a small Belgian village some kilometres North of Sedan.
A few days later. with the assistance of the same grave-diggers the grave was opened at night and Potier who had been buried naked and without a coffin was decently interred in a coffin brought along for the purpose. The whole operation was carried out without the knowledge of the German authorities.
After the liberation, the Belgian Government gathered together the remains of all Belgian subjects who had died in France during the war and re-interred them together in one cemetery, and then in 1952 they were again moved to a monument in Brussels erected in their memory.

RHEIMS PRISON

Rheims Prison was rather an old building consisting of three floors of cells in one long division with exercise courts at each end. The offices and guards' quarters were in a separate building connected to the main building by an enclosed corridor.
The day-to-day administration of the prison was carried out by German Army personnel who generally speaking acted quite correctly towards the prisoners - they were however responsible to the Gestapo who used to call and collect those required for interrogation. Of the Army guards "Gustav", "Heinrich", and "Ludwig" were particularly tolerant towards the prisoners.
On our arrival Harper and I were signed in by "Heinrich" and taken to Cell 31, at one end of the first floor where we were to spend the next 5 months. The cell was approximately 6 feet by 12 feet and contained 2 iron bedsteads, a small wooden flap table and a metal latrine bucket. There was but one barred window set at the top of the wall but we discovered that by standing on the bedstead it was just possible to see out into the grounds. Food was negligible consisted of a bowl of ersatz coffee and a quarter of a loaf in the morning, a bowl of soup at mid-day and a second bowl of coffee at 5 p.m. - occasionally a small piece of soapy cheese was added.
We were allowed exercise on most days for about ½ hour in the morning and occasionally in the afternoon as well, and we were allowed to mix with some of the other prisoners - about four cells being allowed to exercise together, and this enabled them to pass food (which they were permitted to receive in personal parcels brought by their relatives once a week) to us.
We became particularly friendly with some prisoners from Cell 33 who included Francois Marmenout, Lt. Robert from Metz, and Pierre Johnson who was a member of the Deuxième Bureau.
Johnson was subsequently deported to Buchenwald. Herrbruck, and Dachau and returned in critical condition.
On one or two occasions we were fortunate enough to meet M. Rigaux in the exercise yard and he was able to tell us a little of the events leading up to our arrest - although even he did not know the full story at that time. He had been subjected to some severe handling by the Gestapo.
The cells were opened early each morning for prisoners to sweep out and empty latrine buckets in the toilet at the end of each floor- this gave an excellent opportunity for passing messages and packages. On the morning of the 8th January, Commander Nollet who was imprisoned in a cell on the top floor, seized the opportunity during this routine to cut his wrists and jump over the rail to the stone floor of the hall. He fractured his skull and died that same evening. Nollet had been severely tortured by the Gestapo. One eye had been put out and he had a terrible wound across his face and he was apparently afraid that he might be forced to speak under Gestapo pressure.
Harper and I were taken individually on several occasions to be interrogated by Lt. Weissensee at the Gestapo H.Q. in the Rue Jeanne d'Arc. We were invariably handcuffed throughout from leaving the jail until our return and both of us were subjected to a certain amount of rough handling although to a considerably less degree than some of our unfortunate Resistance friends.
The Gestapo knew practically all about our activities in the Rheims area - even to the extent that Weissensee had been informed that I could speak French and that Harper couldn't. Their main object in continuing to interrogate us was to fill in one or two blanks and to endeavour to confront us with someone we might know.
Fortunately although we were both brought face to face with numerous prisoners it so happened that we had met none of them before and consequently we were able to deny knowledge of them with full conviction. The Gestapo were not apparently interested in military matters and although we persisted in giving them name, rank and number only, we were never asked any further military questions. It was obvious from Weissensee's questions and remarks that the round-up of groups "Hector" and "Possum" had been well-nigh complete and Weissensee made great play of telling us just how much he knew of the organization.
The attitude of the Gestapo was that we were to be treated as saboteurs and spies and I was able to use my small knowledge of German to follow some of their comments to each other. At one interrogation I heard a Gestapo Major tell Weissensee "Sagte er das er terroristen ist", so although they were fully aware that we were both R.A.F. personnel that was obviously the line they were to take.
The prison was visited several times a week by a French Red Cross representative, Mme. Chatelin, who used to bring parcels, and laundry for the prisoners, and when she learned we were being held there she immediately notified the P.O.W. Organization in Geneva of our whereabouts and our full particulars. Mme. Chatelin also arranged for us to write a letter home. All this was done with the agreement of the prison administration but without the knowledge of the Gestapo, and when Weissensee discovered this he immediately ordered the delivery of parcels to cease and apparently there was a severe disagreement over the whole question of our treatment.
Mme. Chatelin and the prison guards maintained that we should be treated as P.O.W's. but the Gestapo said that as we had been captured in civilian clothes without any means of identification, we were to be treated as agents. Fortunately Mme. Chatelin had already advised Red Cross H.Q. and that was sufficient to enable her to get permission to re-commence our supply of Red Cross parcels after about a month.
On only one occasion at Rheims was our cell shared with anyone else - this was when an elderly Frenchman, M. Mathieu, was placed in with us for the night. Mathieu had been caught with a cache of arms on his farm and had received very severe handling by the Gestapo - so much so that during the night he pleaded with us to give him a knife or razor-blade in order that he might commit suicide. Despite the fact that he was almost unable to stand Lt. Weissensee and two Gestapo men took him away for further interrogation early next morning. His bed was moved from our cell during the day and although we did not see him again we learned shortly after that he had been executed.
We heard numerous tales of Gestapo brutality from other prisoners but the only other instance of which I was a witness was when the abbé Fontaine of Savigny-sur-Ardre being beaten in the next room during one of my visits to the Gestapo H.Q.
Towards the end of our stay at Rheims we were visited one day by a German Army officer on a tour of inspection of the gaol and we were told by him that the result of the war was a foregone conclusion. We were to see this officer again quite soon.
Prior to 'D' Day several U.S.A.A.F. raids took place on the locomotive sheds just behind the prison and on May 30th a particularly severe but rather inaccurate raid resulted in severe damage to the gaol. Harper and I realized that bombs were dropping pretty close so we retreated under the stouter of the two iron bedsteads. Shortly after the cell window was blown in and the blast depressed the bedstead down on us and blew open the cell door. When we got to our feet it was impossible to see more than three or four feet owing to the fog of dust. We discovered however that the glass end of the prison building had been blown out and that it was possible to get out on the wall surrounding the exercise yards. This we did and immediately saw that a breach had been blown in the outer wall quite near the courts. Whilst however we were discussing the best way of getting down into the grounds two of the guards appeared at the breach armed with machine guns. Five prisoners who had been a bit quicker than us succeeded in escaping in the confusion - "Gustav" apparently fearing reprisals, informed the Gestapo that these men were buried under the debris of the office block which had been demolished by a direct hit.
All prisoners were ordered into the grounds where Harper and I mingled with the rest. Before long however the officer who had been on an inspection a day or two previously appeared accompanied by several Gestapo men carrying Sten guns - captured Resistance arms - and he immediately began to shout for the 'Englanders'. We were soon recognized among the crowd and were taken up to the officer who proceeded to harangue us in his broken English. He then gave some orders to the escort who shepherded us to the far end of the prison grounds and stood us against the outer wall. We were under the impression that they were about to take reprisals on the spot but apparently their only concern was to separate us from the French prisoners.
Some time later we were taken by car to the Gestapo H.Q. and placed in a pitch-black underground cell. Fortunately two French girls who had been conscripted to work in the kitchen were able to smuggle us some water through the wire netting grille. After several hours here we were taken back to the prison by car and there we joined a coach load of the other prisoners en route for Châlons-sur-Marne prison.

CHÂLONS-SUR-MARNE

On arrival at Châlons-sur-Marne prison, which appeared to be a much older building than Rheims gaol, we were all paraded in the courtyard and eventually divided into parties of 10 or 12. Harper and I were surprised to see among the prisoners on the other side of the courtyard Raymonde Beuré.
Harper and I were taken to Cell 46, a large room which we were apparently to share with 8 others. I took the opportunity to make a further protest to the Army guards that we should be treated as P.O.W.'s and not as civilian prisoners, but far from eliciting any response this appeared to annoy the senior N.C.O. who we soon discovered to be a fanatical Nazi, ex-Africa Corps, whose main delight seemed to be to scream at prisoners and his subordinates alike.
Among those with whom we shared Cell 46 were Jean Escudier, who had been badly wounded in the German breakthrough at Sedan in 1940, Pierre Fourneau, Raymond le Roux, a "terrorist" aged 15, and his father. Escudier and Fourneau were executed a fortnight or so after we arrived and M. le Roux was sent to Dachau.
Raymond le Roux was subsequently sent to a Pétain Police Camp in the Lorraine, from whence he was liberated by U.S. Forces in September 1944.
Also in our cell for two days was Raymond Jeunet - one of those responsible for the betrayal of the Fismes organization - we thought his manner rather suspicious and M. le Roux warned us that he was probably planted as a stool-pigeon for the Gestapo. We were therefore cautious in our conversations.
We received no further supplies of Red Cross parcels whilst at Châlons but our companions in the cell were allowed personal parcels and shared everything with us. Exercises were rather infrequent, but during the course of one day we were amazed to hear English voices and discovered two young girls calling down to us from a first floor cell window. We managed to carry on some sort of conversation and arranged to pass notes via the prisoners responsible for serving the rations, from these we learned that our compatriots were Ellen and Gwen Barron who had been living in France when they were captured in 1940. Their English home was at 237 Dover Road, Folkstone.
The Barron sisters were moved from Châlons on 28th July 1944 to the British Internment Camp at Vittel where they found another sister who had been interned there since 1940. The Vittel Camp was liberated on 12th September 1944 by the French Leclerc division and the girls were repatriated by air.
We remained in Cell 46 at Châlons until 13th July 1944 when we were moved by coach to Paris. Harper and I being the only male prisoners to be moved - the remaining prisoners were all Frenchwomen the ringleader among them being Yvette Lundy - a rather stout, red-haired woman of apparently indomitable spirit who continually yelled defiance at the guards. Mme Lundy inspired her fellow Frenchwomen into singing patriotic songs and generally kept their morale high throughout the journey.
Yvette Lundy was to pass through the concentration camps at Romainville, Ravensbrück and Buchenwald and she returned home a physical wreck. Her two brothers were also imprisoned at Châlons in the cell above the Barron, one was later tortured to death in gaol at Württemberg but the other eventually returned safely.

FRESNES

After the coach had left all the women prisoners at the old fort of Romainville on the outskirts of Paris, we made several other stops at various German-occupied buildings before we arrived at Fresnes prison.
The "domain de Fresnes" lies some ten to twelve miles from the heart of Paris to the south past the Port d'Italié and is the biggest criminal prison in Europe. It consists of 3 large blocks or divisions, each block comprising 5 floors of cells arranged on galleries round a large central hall with a high vaulted roof. The 1st division was used for German deserters and military prisoners, the 2nd for male political prisoners and the 3rd for both male and female political prisoners.
The cells were approximately 4 paces wide by 8 paces long and contained a flap table, iron bed with straw palliasse and a tap over a W.C. pan. All cell windows were nailed up and the only source of ventilation was a grating six inches square set high in the wall, part of the ventilation system known as the "Bouche de chaleur". This ventilation system was an invaluable means of communication between cells as it was possible to speak quite quietly and yet be heard clearly in the cell immediately above or below. Other messages were passed by the more crude method of breaking a window and shouting.
Food was delivered from a trolley running along steel rails and the only equipment provided was a tin bowl - referred to as a "Gamelle". The rations consisted of ersatz coffee at 6:30 am. 175 grammes of black bread at 10.0 am. a half bowl of soup at midday and ersatz coffee at 3.0 pm.
Exercise was very infrequent and when it was taken prisoners were paraded in a long line down the middle of the hall and were directed to pens on other side of a low construction connecting the 2nd and 3rd divisions. The pens were enclosed by twelve-foot high walls and along these walls ran a gallery from which guards, usually accompanied by dogs, patrolled continuously.
On arrival at Fresnes, prisoners were placed in a nest of wooden cupboards to the left of the main half, each cupboard just big enough to hold one erect human being. A wait of several hours followed before we were stripped and searched.
Harper and I were placed in Cell 416 in the 2nd Division where our companions were Sgt. Wireless-operator Philip Dowdeswell R.A.F., and Tech/Sgt. Ritchie and Lt. Kirton U.S.A.A.F. This meant five prisoners in a cell normally intended for one but we found this no cause for complaint as we enjoyed the companionship.
From our cell-mates we learned that it was apparently the practice for the Germans to interrogate at their place of capture the Allied air personnel caught in civilian clothing all over France, and when this was completed, for them to be sent to Fresnes for a punishment period before being sent on to recognised P.O.W. camps.
We remained at Fresnes from 13th July 1944 until 14th August 1944 when we were told to gather up our meagre possessions and were then transported in coach loads to a railway yard on the outskirts of Paris where drawn up in a siding was a long train of box wagons, some already crammed full of prisoners, and a heavy guard of armed S.S.
Among those who were imprisoned at Fresnes were Odette Sanson G.C., who was in Cell 108 in the 3rd Division and later in Cell 337, Peter Churchill - in Cell 220 in the 2nd Division and. W/Cdr Yeo-Thomas G.C. (The White Rabbit) in Cell 293 in the 2nd Division. Yeo-Thomas conversed via the ventilator system with Sgt. Gillman - who I had known at Savigny-sur-Ardre, and Gillman memorised messages that he would manage to send home when he reached a P.O.W. camp, giving news of Yeo-Thomas' whereabouts.
In an extract from "Escape from Germany" Aidan Crawley writes:
"… Airmen captured in France or in the Balkans or recaptured after escaping in Germany sometimes had harsher experiences. Many of those who were taken in civilian clothes in France were sent to the notorious prison at Fresnes, outside Paris, where so many members of the French resistance were done to death. At Fresnes, the Germans did not bother about the Geneva Convention. Airmen, soldiers and sailors were treated as saboteurs.
Even if they had identity discs proving their military status these were ignored or taken away from them. Like everyone else they were made to clean out their cells and they lived in constant fear of being tortured or shot.
They were interrogated by the Gestapo. Sometimes they were taken down to a cell in the basement which was a torture chamber. Many were beaten and a few were put through the full Gestapo routine, being left naked in stone cells in the winter and undergoing other horrors that are now familiar. Sometimes they were taken to the Gestapo offices in Paris where they were threatened and bullied …"
FRESNES TO BUCHENWALD
(5-8-44 to 10-8-44)
We were herded by the S.S. guards into the wagons - some 50 or 60 to a wagon. The wagon that Harper and I were in contained a total of 32 Allied airmen and 26 French civilian prisoners. We discovered that altogether there were 168 Allied air personnel, R.A.F., Dominion and Commonwealth Air Forces and U.S.A.A.F., and by contact at every opportunity and stop between the various wagons, it was decided that we should all act as one unified group and the senior officer present, Squadron Leader Lamason R.N.Z.A.F. , assumed command with F/Lt. Blackham R.A.F., and Capt. Appleman U.S.A.A.F. as deputy commanders. All personnel were informed that they were to all intents and purposes under military law and that the orders of the superior officers were to be implicitly obeyed.
The attitude of the S.S. guards towards P.O.W's was soon made plain when S/Ldr.Lamason endeavoured to protest about our treatment and received a punch in the face as a reply.
The journey lasted five days during which practically no food or water was provided and the only sanitation consisted of a large metal container in the centre of each wagon.
Near Chateau-Thierry we all had to detrain and march some kilometres round a tunnel which had been bombed and blocked, rejoining another train of similar wagons on the far side.
There were several instances of brutality by the S.S. guards during the journey, and in one case a young Frenchman rested his hand on the barbed wire across the only ventilation opening in the wagon and was promptly shot through the hand. When he called for attention he was taken out of the truck and shot on the embankment, two other prisoners being compelled to dig a rough grave.
We passed through Châlons-sur-Marne during the journey and we saw several British P.O.W's in battle-dress working in the railway yards.
None of us had any idea of our eventual destination - we were passing through miles of dense pine forest on a single line of track until we pulled in at a temporary platform surrounded by barbed wire. After detraining we began to march towards a nearby camp - passing a sign-post of grotesque figures worded KONZENTRATIONLAGER.
KONZENTRATIONLAGER BUCHENWALD
(10-8-44 to 25-10-44)
Our arrival in the camp caused considerable interest, among the thousands of prisoners already interned there and we soon discovered that we had arrived at Buchenwald, near Weimar.
The camp was set out on a hill-side and consisted of two sections. - the main camp with some brick-built blocks and buildings and wooden huts, and the lower camp which contained much larger windowless huts and tents. We entered through an iron gateway set under a large tower - on either side of the tower was a wing lined with steel shutters which we soon learned were the Bunkers or punishment cells. Immediately in front of the tower was a large square surrounded by low huts, one of which, opposite the entrance, was the pathological block.
We were instructed by S/Ldr. Lamason that since we maintained we should be treated as P.O.W's we would conduct ourselves as far as possible as a military body and would accordingly march correctly whenever we were moving about the camp.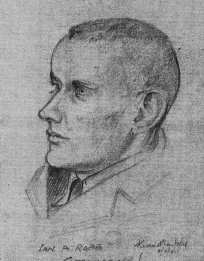 Immediately on arrival we were taken to a brick block and into a large room where we were stripped of all clothing and possessions, then we were sent under showers from which a trickle of water emerged, given rags to dry with, and finally directed into another room with a number of electric clippers hanging down on long wires from the ceiling. Here we were completely shaved of all hair and then painted with some astringent disinfectant liquid. We were then issued with assorted clothes consisting of a shirt, trousers and some headgear, - no footwear was provided and the clothes themselves were rags from some previous arrivals which had been baked and re-issued.
After these formalities had been completed we were sent to the lower camp which was already greatly overcrowded, so much so that we had to spend the first week or so out in the open day and night. Some succeeded in finding a little shelter in the latrine in a disused cart.
We soon learned something of the organisation of the camp. Each block had a block-führer and the lower camp had a leader and deputy all of whom were long-term German political prisoners arrested by the Nazis in pre-war days - and who had been placed in authority over the other prisoners of every nationality. The normal prisoners' uniform was blue and white striped and those Germans in authority wore black berets and black armbands lettered "Lagerschutz", "Kapo" or "Vorarbeiter", the remaining prisoners wore coloured triangles on their jackets and trousers with numbers on white tape sewn below the triangles. The colouring of the triangles indicated the class of prisoners as follows:-
Red triangles without letters

German political prisoners

Red triangles with black letters
Other nationalities
F-French, T-Czechs.
R-Russians, P-Poles etc
Black and green triangles
Common law offenders
Yellow triangles
Jews
Pink triangles
Homosexuals
Violet triangles
Jehovah's Witnesses and others imprisoned for religious belief

The camp was guarded by the S.S. and the barbed wire barricades were electrified, the perimeter was constantly patrolled and the guard-towers, or Miradors, all had machine-guns trained on the camp and searchlights continually on the wire after nightfall.
A parade or "Appell" was held every evening, when prisoners were counted by the block führers and then re-counted by the S.S.. "Appell" for the main camp was held on the large square. As there were something like 80,000 prisoners to be counted this lasted sometimes as long as four hours.
Working Kommandos were sent out of the camp every day, starting about 4.0 am. to hew stone or drag logs.
Food consisted of a small ration of black bread, acorn coffee and soup once a day.
On the next morning after our arrival we were amazed to be visited by an Englishman, S/Ldr. Yeo-Thomas who was imprisoned in the camp, and he and S/Ldr. Lamason made contact with two Russian colonels who organised among their men collections of clothes and clogs for us.
After a week or so in the open we were put into Block 58 in the lower camp - under Block Führer Hoffman in which there were approximately 750 prisoners. These windowless huts did not contain bunks, but had instead three or four tiers of shelves split up into compartments in which three men had to sleep under conditions hardly suitable for one person.
S/Ldr. Yeo-Thomas was endeavouring to organise a mass escape with the agreement of the Russians and now that a group of airmen had arrived he planned to combine forces and split the group up into units of ten not according to nationality but in order to obtain complete air-crews. The idea was that provided this force could make a mass escape there was a small and poorly guarded aerodrome called NOHRA, some 12 miles from Büchenwald, which Yeo-Thomas was confident could soon be overrun, the aircraft captured and flown back to the Allied lines. Arms were apparently hidden in the camp but only the Communist leaders knew where they were concealed and Yeo-Thomas had not been able to discover their whereabouts. This plan was finally abandoned when the S.S. began taking members of Yeo-Thomas' party to the tower for execution, and Yeo-Thomas himself was transferred to Block 50. S/Ldr. Lamason did succeed in smuggling his way into the Block to see Yeo-Thomas and agreed that should he be transferred to a P.O.W. camp he would send home news of him.
Immediately outside the main entrance to the camp was a large factory making secret weapons, where large numbers of prisoners were forced to work, but on the afternoon of the 24th August U.S.A.A.F aircraft attacked the Aurüstungswerke factory and totally destroyed it. In addition some 80 guards were killed and 200 wounded in the S.S. barracks, and some 400 prisoners were killed and 1,450 wounded (of which 600 were seriously wounded). This raid completely disrupted the water system and a water-cart was brought into the lower camp each day, the prisoners became so out of hand in their attempts to get some water that the German KAPO of the lower camp asked S/Ldr Lamason if we would form a guard round the water wagon and we did this on each occasion with excellent results.
Soon after we had arrived I was astounded one day to meet Marcel Tavernier, the butcher whom I had known in Rheims, and he was able to tell Harper and I that M. Rigaux had also been at Buchenwald but had died some weeks before our arrival.
Two of our group died from the effects of the conditions under which we were existing; Lt. Beck, U.S.A.A.F. of double pneumonia, and F/O. Hemmings, R.A.F. of rheumatic fever. There were also several cases of persistent sores which developed among us, and I was attended by a young Russian, who I merely knew as Ivan, for a poisoned left arm. Medical facilities and equipment were practically non-existent and only paper bandages were available but the "medical orderlies" of various nationalities who were complete amateurs did their utmost to help. After a fortnight or so without any visible improvement, a Canadian and myself were ordered to report to the Rivier Hospital, which was mainly staffed by prisoners, but nothing more was done for us.
On the 18th October the entire Copenhagen police force who had been arrested en bloc by the Germans, arrived in the camp and our two groups immediately became firm friends. After the deaths of Beck and Hemmings, the Danes insisted on holding a memorial service in the camp.
Several of the prisoners became regular visitors to our group and among these were Pierre Rives, Villeraude, près de Carcassone, Toulouse, and Robert Coppenolle a Belgian who claimed to have been born in Richmond, Yorks.
Coppenolle's claim was true, as he visited me after the war and we obtained a copy of his birth certificate from Somerset House. His fiancée had also been arrested and interned in Ravensbrück concentration camp, but she died 11 days before the camp was liberated.
One morning our group was ordered to report to a block in the main camp and here we were confronted with the bogus Red Cross forms about which we had been warned by Intelligence Officers. S/Ldr. Lamason decided that in view of the delicate situation in which we found ourselves and that all of us had been shot down for at least six months, in most cases longer, that we should partially complete them with some correct information and some incorrect. The presentation of these spurious Red Cross forms was at least an indication that we were under the eye of the military authorities and a week or so later we were informed that we were leaving immediately to an undisclosed destination and it was with feelings of some relief that we formed up and marched out towards the sidings where we had detrained some ten weeks previous.
STALAG LUFT III
(27-10-44 to 27-1-45)
After a two-day journey eastwards in cattle-trucks less crowded than previously we arrived in the railway yard at Sagan and were marched to the outskirts of the town to what was evidently a P.O.W. Camp as we were handed over to Luftwaffe guards. After the formalities of number, rank and name had been recorded we were photographed individually and had our finger prints taken. We were then marched to the camp proper and were given a most enthusiastic welcome by the prisoners - we then discovered that we had arrived at Stalag Luft III, North Compound. The compound from which the mass tunnel escape had not long taken place and from which the Wooden Horse escape was made.
We were split up and distributed around the various huts and I was allocated to Hut 101, Room 18 under the command of the block-leader S/Ldr. Torrens.
The camp was wonderfully organised by the inmates and contained factories forging papers and passports, metalwork, carpentry, and conversion of clothing into suitable escape garb, A "Duty Pilot" system was operated throughout the 24 hours which enabled the whereabouts of every German in the compound to be known at any moment.
Underground activities were supervised by two organisations - 'X' for escape activities and 'S' for security arrangements.
These were headed anonymously by 'Big X' and 'Big S' and each hut had 'Little X' and 'Little S' representatives.
Conditions in the camp were quite good and the Luftwaffe guards behaved with strict observance of the Geneva Convention. Food was insufficient when only German rations were available, but the supply of Red Cross parcels did not run out during my stay although the allocation varied according to the supply from a full parcel per man per week to as low as one quarter of a parcel per man per week. Distribution was governed by a committee who always kept a reserve supply in hand to provide for breakdowns in transport. Shortly after my arrival I met F/Lt. Murphy whom I had known during training in England, and from 218 Squadron I renewed acquaintance with F/O. Pearce and S/Ldr. Lambert. I also met F/Sgt. Alkemade from 218 Squadron who had been shot down on a raid on Berlin on 24th March 1944 and as his parachute had been burned away he decided to jump from 18,000 feet rather than be roasted alive. Miraculously he fell through thick pine trees into deep snow and survived without breaking a single bone. The German authorities first did not believe his story but when his harness was found at the spot with the clips still intact he was given a signed certificate witnessed by both German and British officers to confirm the fact.
Upon the Russian advance from the East we were evacuated by forced march in severe winter conditions for five days and nights until put in a further cattle truck train to MARLAG UND MILAG NORD near Bremen. Upon the advance of the British we were again forced march towards LUBECK until liberated by the British Army on 2.5.45.